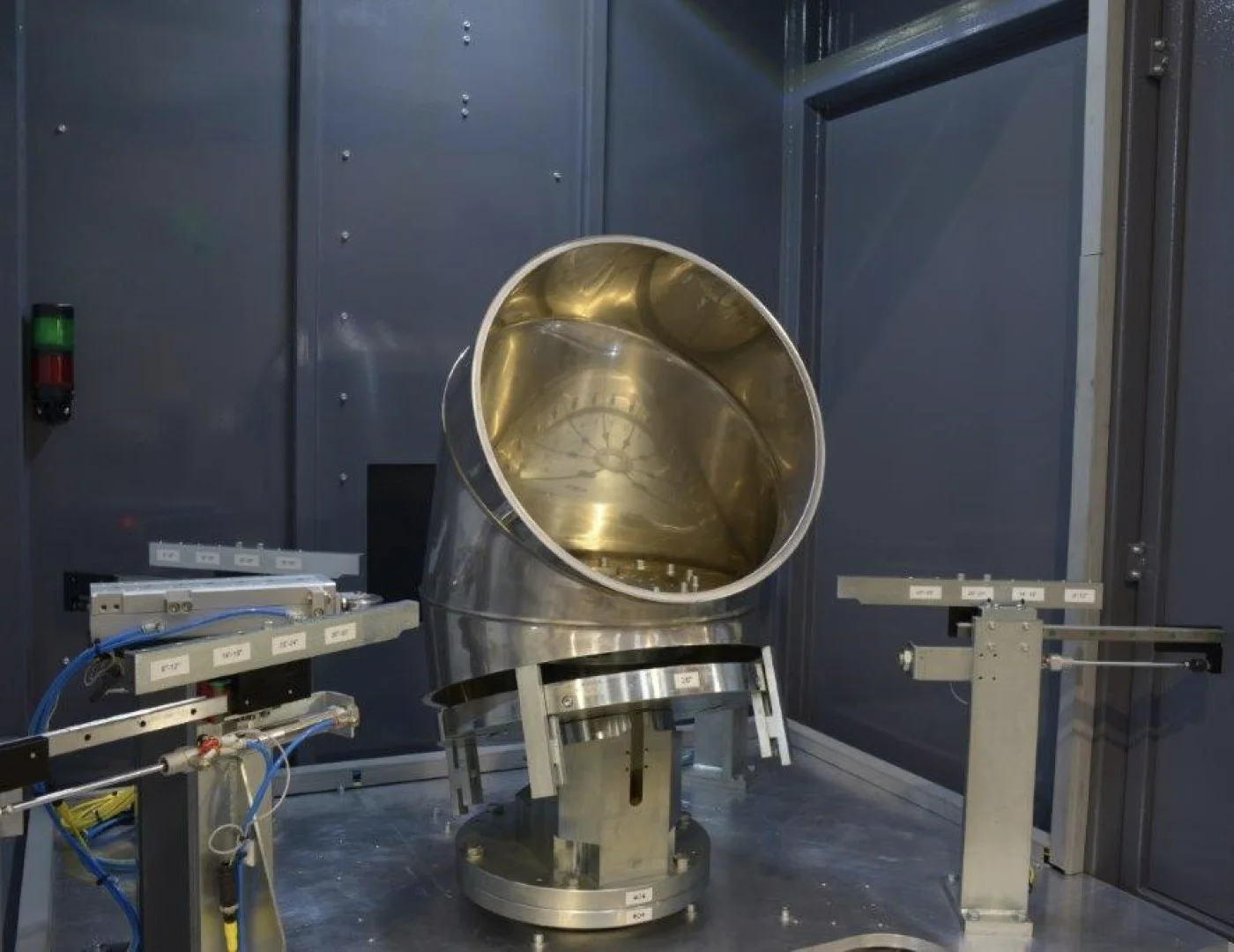 TTEngineering's offer includes also semi-automatic elbow assembly machines, which deploy different technological solutions for assembly.
There are several models available, where welding technologies may vary (TIG, resistance, laser); these working stations can be either stand-alone or integrated in more complex production lines with sequential operations.
PCS & SCS
PCS & SCS machines work simultaneously to prepare in a semi-automatic mode elbow sectors (PCS), which are than welded by a double-torch TIG welding machine (SCS). These machines belong to the semi-automatic solutions, since, although the process is carried out automatically, an operator is needed to place elbow segments on the machine and start the cycle. As diameter or elbow angle changes, it is necessary to replace the equipment and the fastening jigs that TTE designs ad hoc and delivers together with the machine according to the products to be processed.
SLS & SLC Tandem
SLS & SLC Tandem is the machine designed to weld elbow segments and T-fitting bodies by fiber laser overlap transparency welding. The standard configuration of this machine includes two heads, one for elbows and one for T-fittings, and a sole fiber laser source moving between the two stations, welding components and adapting to each diameter according to the selected recipe.
PS & SLS / D-SLS
PS: extremely flexible profiling machine for elbow sectors; it is provided with two rolling heads – one for male profile and one for female profile. Each head is equipped with an electro-actuated pneumatic contrast roller ensuring process stability and enabling machine operations in compliance with security regulations, that is with the operator standing out of the working area.
SLS: system equipped with a sole tool – an expansor where elbow sectors are placed, coupled and welded by means of laser overlap transparency welding (overlapping).
The same machine is also available with a double rotating spindle (D-SLS), making it possible to load-unload or fix semi-elbows in background, that is while the machine is welding. In this way it is possible to work on different diameters with a unique tooling set, thus doubling productivity.
BG-AG ARTICULATED ELBOWS
BG and AG are the machines developed by TTEngineering to manufacture articulated elbows.
BG is the system to prepare the two elbow segments by straining their ends, thus preparing them to be received by the AG system to be finally strain-assembled, that is without applying any heating technology. The result is an articulated swivelling elbow that can reach many different angles of inclination.
AK0 – Elbows Assembly Station
Another brilliant solution signed by TTE to realize elbows without applying any heating technology.
The present machine consists of two working stations powered by two robots:
– 1st station: male and female sides preparation by means of a profiling roller;
– 2nd station: elbows assembly by means of two external rollers coupling up to 4 elbow sectors.
This special configuration with robots is in full compliance with the European regulations on safety at work, since it prevents the operator from entering the working area, thus avoiding any crushing hazard.
Our machine is fully electrically driven and works in a completely automatic mode.
On top of that it requires only robot clamps and assembly seat sectors change as diameters vary.